CUSTOM SOFTWARE DEVELOPMENT



It is a custom approach to develop Software and solving problems. Using new technologies we develop creative solutions as quickly as possible in order to meet the client's specifics requirements.


We, at Indicium Technology strongly believe that technology is a true business enhancer. That is why; we help you company make best use of information technology.

Our phases in a project are: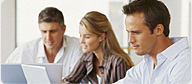 Requirements
Design
Development
Quality Insurance
Transition
Support